Stand out to customers. Stand up to the elements.
• Mesh weave lets air through, minimizing wind effects
• Built-in grommets (included free) make hanging easy
• Reinforced edges (also included) to increase durability
• Water- and UV-resistant

Get your word out in all kinds of weather with rugged
and fully customizable – mesh banners.
Ready to turn some heads? Invite passersby to walk into your store or check out your booth with bright and enticing custom mesh banners. We've designed these banners with windy conditions, outdoor events and storefronts in mind: Made of UV- and water-resistant polyester, the banner's mesh weave lets the wind pass right through. And with half-inch metal grommets and reinforced edges included, your mesh signs will look great time and time again, no matter what Mother Nature has in store.
These add-ons can help you securely attach mesh banners to construction fences, tent poles and more. (Pro tip: Make sure you pull your banner taut to avoid damage in windy conditions.)
Mesh Banners

Orientation

Size

20" x 36"
30" x 48"
30" x 72"
30" x 96"
30" x 120"
30" x 144"
48" x 48"
48" x 72"
48" x 96"
48" x120"
72" x 120"
96" x 120"
4' x 12'
6' x 12'
8' x 12'

Add accessories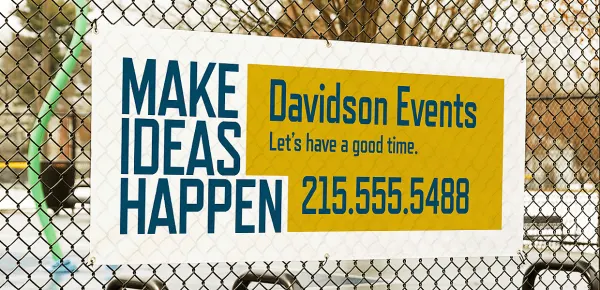 Design Tip
Keep it simple. Start with one main message, and then make it big. This keeps your audience – street traffic, event attendees or someone else – from getting overwhelmed or confused. You'll be able to give them more information when they come over to say hello.
Practical tips and inspirational stories about looking professional and unlocking opportunities.